Centre for Entrepreneurship Development
Centre for Entrepreneurship Development
To support and promote women led innovative startups and incubate them at our Incubation Centre.
Extend business development support and consultancy to incubated startups to help them build sustainable businesses.
Conduct knowledge building sessions for incubate as well as non-incubate startups to help them develop core knowledge to conduct business activities.
To develop a conducive startup ecosystem to promote entrepreneurial activities among women in Rajasthan.
To identify innovative and viable start up ideas and provide them support to develop into sustainable and scalable enterprises.
To develop lateral thinking to find solutions for identified problems which affect society at large-such as- health, hygiene, environmental pollution, safe and clean drinking water etc.
To enter into industry and academic collaborations to further build the startup ecosystem and provide multi-dimensional support to startups.
To fill the identified gaps in the entrepreneurial environment with stakeholders such as start-ups, mentors and investors and promote research and evidence-based policy advocacy in entrepreneurship domain.
Mail : richa.c@kanoriacollege.in
Mail : preeti.a@kanoriacollege.in
Mail : vishnupriya.t@kanoriacollege.in
Mail : rekha.p@kanoriacollege.in
Mail : rachana.g@kanoriacollege.in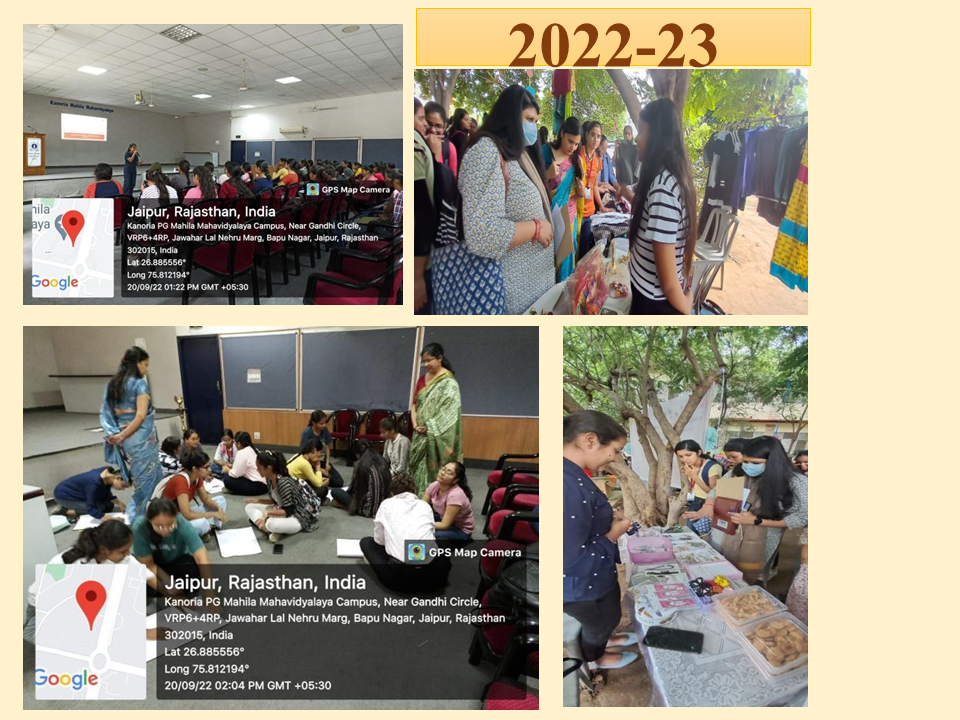 In association with Rotary Club,Jaipur South an awareness session on "Career Opportunities in the fields of Fashion Design & Nutrition" was organised on 13th Sep 2023. To felicitate students to choose better career options Rotary club south signed MOU with the college. The speakers for the session were Rt.Seetu Khanna & Rt.Vinita Gupta Practising Dietitian. They discussed various career prospectus & challenges faced in the industry. About 143 students attended the programme
In association with Let's Talk an Interactive session on 12th Sep 2023 was organised on "Kick Start the Start-Up" with Dr.Joish Madhusudhana Murthy,Senior Manager, Incubation  & Entrepreneurship Development  BITS Bio CyTIH Foundation.He addressed the students to identify an idea & discussed various stages involved & funding agencies in setting up an enterprise. About 184 students attended this session.
Digital Ideathon 2022 -20th September to 10th October 2022
Passion to Profession '2022 : one -day entrepreneurship development programme 20th September 2022. Fifty students participated in the programme and understood the entrepreneurial ecosystem of the College.
Kanoria Fiesta 2022 – Three day exhibition-cum-sale
Kanoria Fiesta: 21st to 23rd October 2021.
Passion to Profession: 17th and 18th December 2021.
Digital Ideathon 2021: 18th December 2021 to 7th January 2022
Establishment of NARIKA -Incubation Centre – 3rd in India to be a 'women only' – incubation Centre.
2020: E-Expo: Virtual Exhibition-cum-Sale for students
Digital Ideathon: 21st to 28th October 2020: 6 Start- up ideas were selected.
Two students participated in RISE 2019
Student awareness activities were conducted