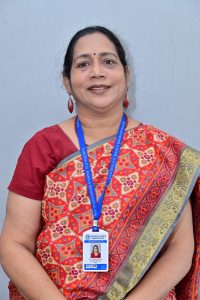 Name:  Dr. Prabha Bajaj (Head)
Qualification: M.A, P.H.D, S.A.T, Diploma in Sangeet Prabhakar and Sangeet Visharad
Experience: 29 Years
Name: Mr -Shivam Sharma (Tabla Player)
Qualification: Nipun, M.A. , All India Radio ( B - Grade Artist)
Experience: 9 Years
Programme offered:  
B.A. Pass Course
Program Outcomes
Develop competency in fundamental music theory through analytical listening and sight singing.
Build the ability to effectively communicate in writing on the topics in the field of music history through purposeful use of evidence, insightful reasoning and supporting details.
Acquire skills in preparation for and performance of musical works that exhibit effective artistic expression.
Develop the ability to integrate skills and knowledge acquired over the course of undergraduate education for a specific purpose that has value in the discipline.
Help students work efficiently towards graduation with the skills and desire to continue making valuable contributions to the college through teachings and quality music curriculum.
Orientation day (2016-21)
Foundation Day (2016-21)
Independence Day (2016-21)
Hindi Divas (2016-2020)
Gandhi Jayanti (2016-2021)
Republic Day (2016-2021)
Annual Day Celebration (2016-2021)
Music department rendered bhajans during the condolence meeting of late former vice chancellor Prof. T.K Unnithan.
Music department performed shlokas with the presence of the minister of jal shakti (Gajendra Singh Shekhawat) On 28th August, 2017
Saraswati Vandana performed in an international seminar in 'Aparigraha' on invitation.
Extension lectures from renowned artists conducted every year (2016-2021)
Conducted singing activities and competitions of geet, folk music, gazal, classical music, bhajan in class (conducted every year)
Workshops Conducted
Singing Workshop (2016-2021)
Guitar Workshop (2019-2020)
Flute Workshop (2021-2022)
Student Achievements
1st Prize for Group Singing at Jaipur music festival organized by Nehru Yuva Kendra (2016-2017)
2nd Prize at Paniharin Program (2016-2017)
Participation at Hindu spiritual service fair on (21st september 2016)
1st prize in Solo Singing at Jaipur music festival (28th January 2016)
2nd prize in Group Folk Dance at Yuva pratibha khoj (15th December 2017)
1st prize in Group Singing at Yuva pratibha khoj mahotsav (14th December 2017)
1st prize in Group Singing at Yuva board state level competition (14th December 2017)
2nd prize in Group Dance at Yuva board state level dance competition (14th December 2017)
1st prize In Group Singing at Yuva sanskrutik pratibha khoj (15th of 2017)
2nd prize in Solo Classical Singing at Akhil bharatiya sur sangam sangeet competition (15th November 2017)
Group Singing performance on Hindi Diwas in the presence of the honorary education minister (14th September 2016- 2020)
Performance at the New Year Program telecasted on Prasar Bharati Doordarshan kendra. Each student was awarded an appreciation amount of Rs 1,000 (2nd December 2016)
3rd prize in group singing at Yuva board state level singing competition (8,9January 2018)
Performed Gandhi bhajan (Gandhi vichar dhara) in front of Mr.Tushar Gandhi. (9th August 2019)
2nd prize in classical solo singing at Sangeet Mohotsav Ninad, Agra (11th December 2021)
Students of the music department performed at state, district level competition and received Kala Ratan Award.
Performed Folk Songs in the presence of Home Minister Mr. Amit Shah on 14th December 2021.
Do you have more questions?
Kanoria PG Mahila Mahavidyalaya
Near Gandhi Circle, J.L.N. Marg, Jaipur (Rajasthan)- 302004
admissions@kanoriacollege.in
+91-141-2707539
Admission Helpline No.: 9057807070
(10:00 AM to 06:00 PM)
Tell us a little about yourself and we'll help with the rest. Our convenient online application tool only takes 10 minutes to complete.
Once you've completed your application and connected with an admissions representative, you're ready to create your schedule.