Department of Political Science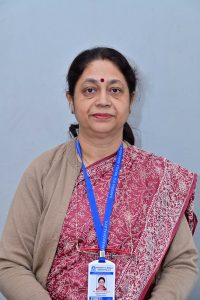 Name: Deeptima Shukla (HoD and Vice Principal)
Qualification: MA, M Phil, PhD
Experience: 22 Years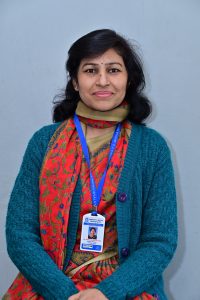 Name: Dr Prerna Singh Lavania 
Qualification: MA, M Phil, NET, PhD, LLB, B. Ed.
Experience: 14 Years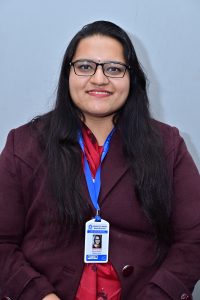 Name: Palu Joshi
Qualification: MA, PhD and NET/JRF (Political Science)
Experience: 8 years
UG
B.A. Pass Course
B.A. Honours (Political Science)
PG
M.A. Political Science 
Program Outcomes:
PO1. Critical Thinking: The ability to analyze and predict socio political phenomena based on the study of existing socio economic determinants and past experiences. This goal is achieved by classroom lectures and training students in the different methods and tools of investigation such as empirical research methods For example – Field Trips, organizing special world and national days.
 PO2. Effective Communication: Establishment of linkages between academics and civil society at large so as to successfully address socio political problems. The quarterly news letter is a means for keeping the entire student population up to date with political occurrences at both global and domestic levels. Debates, seminars and guest lectures are also regularly organized on relevant themes and participation is sought from experienced resource persons. 
 PO3. Social Interaction: views of all are put together discussion group activities and debates organized from time to time on political issues.
 PO4. Effective Citizenship: the course curriculum inculcates among students a basic understanding of the rights and duties of citizenship and thereby to act as responsible citizens through the observation of important days such as Independence Day, Republic Day, Human Rights Day, Constitution Day etc.
 PO5. Ethics: Programme is designed to make students aware of the rights as well as duties towards the state as well as other citizens, as rights and duties complement each other. Curriculum also makes student gender sensitive and sensitive towards other marginalized sections of the society. 
PO6. Environment and Sustainability: Programme helps understanding the issues of environmental contexts and sustainable development. It understands political processes and systems at both global and national levels, with regard to environment protection and sustainable development. Curriculum is designed to understand theoretical aspects of Environmentalism and Sustainability.
PO7. Self-directed and Life-long Learning: The purpose of the Programme is to      deepen knowledge and understanding of one of the most powerful forces operating on people, communities and corporations today. In every career it is essential to have some understanding of policy and politics to make wise social, economic and political decisions. It helps develop writing skills, quantitative reasoning, statistical assessments, and analytical thinking as well.
Career Opportunities
Civil Services:

For anyone considering appearing for the UPSC (Union Public Service Commission) exam, a thorough knowledge of Political Science is a must, and studying the subject at the undergraduate level can immensely help aspirants.

Policy Analyst:

Political Science majors develop strong critical thinking, writing, and research skills, along with an in-depth knowledge of public policy, all of which are essential requirements for applying for the role of a policy analyst. The job of policy analysts is to evaluate the impacts of adopting a policy and use the analysis to devise arguments that either support or discredit the implementation.

Legislative Assistant:
Most people are unaware of the fact that Members of Parliament and other elected representatives and officials often hire assistants who can help them with their legislative duties.
These hires are professionally known as legislative assistants, who work in close collaboration with our MPs to research on policy issues, pending legislation, inquire into the problems of citizens within the jurisdiction of their employers, and coordinate and communicate with other officials of the jurisdiction.
Social Media Manager:

From political candidates, officials, and parties to interest groups, every individual or organization in the public eye needs a strong social media presence. Their presence further needs to be managed by social media experts who understand politics and current issues well.
This is where political science graduates can leverage their knowledge of what constitutes a positive public image and opinion, and formulate and implement plans to shape and enhance their clients' social media campaigns.
Journalism:

A good political journalist is someone who has profound expertise in politics and aspires to use it to increase public awareness about the same across different media. Political Science graduates make excellent political journalists, reporters, and correspondents, given their competence in politics and their understanding of the political environment.
Whether students choose to supplement their undergraduate degree with a degree or diploma in journalism or mass communication or start working directly after graduation, journalism is a fantastic career option for Political Science graduates.
Marketing Research Analyst:

Political science graduates are required to study the flow of power in political systems, which allows them to understand how to market a particular product across geographies to maximize its impact.
Therefore, they develop a knack for marketing jobs, which provides another career option in Political Science, since they can quickly and effortlessly analyse how consumers of a specific demographic will respond to the product through their knowledge of research methodologies. Students can pursue an MBA or enter into the marketing industry right after their graduation.
Teaching:

Students who enjoy gaining more knowledge about the subject can consider teaching at the school or college level as a career option in Political Science. At the school level, teachers are required to hold a B.Ed. degree, along with an MA in political science, while at the college level, teachers need to qualify examinations such as UGC NET/ SET and/or hold a Ph.D.

Intelligence Analyst:

Intelligence analysts work for government agencies like the CBI. They utilise their knowledge of political science to analyse all levels and parameters of development in the country's volatile regions, which requires their specific knowledge and skill set.
Their work also includes making reports on groups that may pose a threat to national security, study patterns of leadership and public response, and present their findings in a conclusive manner.
Political Campaign Staff:

A political campaign staff's job profile is the same as that of a social media manager, except that this work is done mostly offline. Political campaign staff members prepare press releases and draft speeches for their clients, design and execute campaign strategies, analyse current political issues, study public reactions to cultivate their client's image, and organise fundraisers for the campaign.

Public Relations Representative/ Specialist:

Public relations representatives or specialists are people who act as mediators between their clients and the public through various platforms of the media. From organising press releases and conferences to managing campaigns, events, and public appearances, the profession requires astute critical skills of researching, writing, and analysing to promote their client's image, something that political science majors possess in abundance.

Political Scientist:

Lastly, for students who are deeply passionate about the study of political science, academia is an industry that is always open. Students can pursue their MA and PhD in Political Science following the completion of their graduation, to become thinkers and subject matter experts.
Year 2021-22
| S. No | Activity | Date | Mode |
| --- | --- | --- | --- |
| 1 | Guest Lecture by Dr. Janak Singh Meena | 08-09-2021 | Online |
| 2 | Panel Discussion | 18-09-2021 | Offline |
| 3 | Constitution Day Celebration: Movie Show | 26-11-2021 | Online |
| 4 | Human Rights Day: Guest Lecture | 10-12-2021 | online |
| 5 | ParaakramDiwas: Guest Lecture | 24-01-2022 | Online |
Year 2020-2021
| S. No | Activity | Date | Mode |
| --- | --- | --- | --- |
| 1 | National Debate Competition: 'Media trials are interference in the process of judicial verdicts' | 31-10-2020 | Online |
| 2 | Constitution Day Celebration: Virtual Tour of the Parliament | 26-11-2020 | Online |
| 3 | Human Rights Day: Guest Lecture | 10-12-2020 | Online |
| 4 | National Youth Day Celebration: Movie Show on life & times of Swami Vivekananda | 12-01-2020 | online |
| 5 | ParaakramDiwas: Movie Show- Bose: The Forgotten Hero | 23-01-2021 | Online |
Year 2019-2020
| S. No | Activity | Date | Mode |
| --- | --- | --- | --- |
| 1 | Orientation Session for Hons Students | 11-07-2019 | Offline |
| 2 | One day Trip to Rashtrapati Bhawan | 22-08-2019 | Offline |
| 3 | Special Lecture on Jammu & Kashmir by Shri Vijay Pal Singh | 20-09-2019 | Offline |
| 4 | Workshop on Healthy Lifestyles: Mr. Samar Singh from 8 Steps Studio | 19-11-2019 | Offline |
| 5 | Constitution Day Celebrations: Movie Show 'Sardar' | 26-11-2019 | Offline |
| 6 | Human Rights Day: Lecture by Prof. H. K. Sharma | 10-12-2019 | offline |
Year 2018-2019
| S. No | Activity | Date | Mode |
| --- | --- | --- | --- |
| 1 | One Day Trip to Jamwaramgarh | 08-09-2018 | Offline |
| 2 | Extension Lecture on Arab- Israel Conflict: Prof Shashi Sahay | 18-09-2018 | Offline |
| 3 | Extension Lecture on 'Gandhism': Prof Vidya Jain | 08-10-2018 | Offline |
| 4 | Extension Lecture on Sino- Indian Relations: Prof R.S. Bareth | 15-11-2018 | Offline |
| 5 | Constitution Day Celebrations: Quiz and Essay Competition | 26-11-2018 | Offline |
| 6 | Human Rights Day Celebration: Movie show 'The Story of 30 Articles of Human Rights' | 10-12-2018 | Offline |
Year 2017-2018
| S. No | Activity | Date | Mode |
| --- | --- | --- | --- |
| 1 | Peer Learning Session I | 18-08-2017 | Offline |
| 2 | Peer Learning Session II | 20-09-2017 | Offline |
| 3 | Extension Lecture on 'Gandhi and Globalization': Prof Vidya Jain | 09-10-2017 | Offline |
| 4 | One Day Visit to DuralbhjiAvedna Ashram | 10-10-2017 | Offline |
| 5 | Extension Lectures: 'Arab- Israel Conflict' | 7 & 10 Nov 2017 | Offline |
| 6 | Constitution Day Celebrations: Quiz and Poster Making Competition | 27-11-2017 | Offline |
| 7 | Human Rights Day Celebration: Special Lecture by Dr M.K. Devarajan | 10-12-2017 | Offline |
Year 2016-2017
| S. No | Activity | Date | Mode |
| --- | --- | --- | --- |
| 1 | One Day Visit To Parliament | 05-08-2016 | Offline |
| 2 | Guest Lecture by Prof Rajiv Gupta on 'How to Prepare Research Projects' | 17-09-2016 | Offline |
| 3 | Peer Learning Session | 08-10-2016 | Offline |
| 4 | One Day Visit to Bassi Gram Panchayat | 22-02-2017 | Offline |
Do you have more questions?
Kanoria PG Mahila Mahavidyalaya
Near Gandhi Circle, J.L.N. Marg, Jaipur (Rajasthan)- 302004
admissions@kanoriacollege.in
+91-141-2707539
Admission Helpline No.: 9057807070
(10:00 AM to 06:00 PM)
Tell us a little about yourself and we'll help with the rest. Our convenient online application tool only takes 10 minutes to complete.
Once you've completed your application and connected with an admissions representative, you're ready to create your schedule.