Department of Business Administration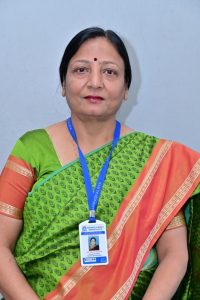 Name: Dr. Neetu Mathur
Associate Professor
Qualification: PhD., M.com
Experience: 30 Years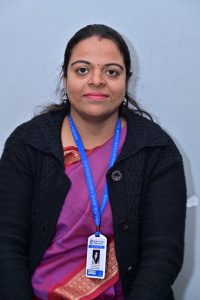 Name: Dr. Leena Bhatia
Assistant Professor
Qualification: M.Com, M.Phil, MBA, Ph.D, UGC-NET, RPSC-SET
Experience 13 Years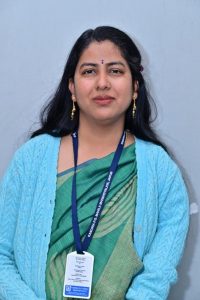 Name: Dr. Preeti Agarwal
Assistant Professor
Qualification: Phd., UGC NET,RPSC SLET,MBA.,M.COM
Experience: 12 Years
Award- Smarpan Award 2020,Teaching Excellence Award January,2021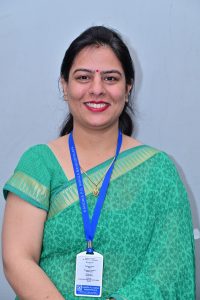 Name: Dr. Akanksha Ganda
Assistant Professor
Qualification: Phd., UGC NET-Commerce, UGC-NET-Management, Gold Medalist-MBA, M.Com
Experience: 11 Years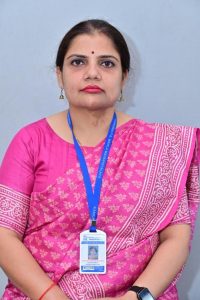 Name: Dr. Tina Singh Bhadouria
Assistant Professor
Qualification: Ph.D, M.Com, MBA, BBA.
Experience: 7 Years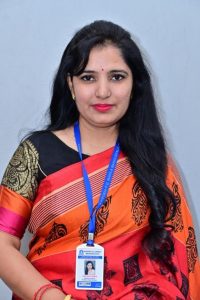 Name: Ms. Damyanti Sodha
Assistant Professor
Qualification: MBA, M. Com, Net Qualified, Pursuing PhD, M.A.(English Lit.)
Experience: 12 Years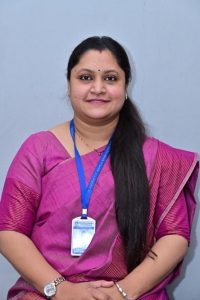 Name: Dr. Aanchal Puri
Assistant Professor
Qualification: BBA, MIB (Gold Medalist), M.com.(Gold Medalist), PhD and B.Ed
Experience: 7 years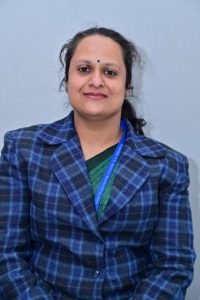 Name: Dr. Surabhi Sharma
Assistant Professor
Qualification: PhD, M. COM., M.H.R.M
Experience: 14 Years
Programme Offered
UG
PROGRAMME OUTCOMES B.COM (REGULAR)
This program could provide Industries, Banking sectors, Insurance companies; FMCG companies etc well trained professionals to meet the requirements.
After completing graduation, students can get skills regarding various aspects like sales, legal aspects, entrepreneurial skills etc.
Capability of the students to make decisions at personal and professional level will increase after completion of this course.
Students can independently start up their own business.
Students can get through knowledge of entrepreneurship, law, and different areas of management.
The knowledge of different specialisation areas of management helps the students to make decisions regarding further higher studies and career choices.
PROGRAMME OUTCOMES BBA
With this program, students will gain knowledge to analyze, evaluate and interpret management concepts in their professional life.
They will be able to apply ethics, morale, and values in their professional as well as personal life.
By smartness of their preparation students will be able to go for better marketing and HR opportunities in corporate world.
They can find career option in corporate world, various Private and public sector as a manger, accountant, teacher, financial expert, PR manager.
To have a practical hand-on training of office work students go to various companies and organisation as an intern under this program.
This program provides theoretical and practical learning of various papers, at the end of which students get opportunities to enter various PG programs and even in research work in different areas.
PG
Skill Enhancement Course
CAT (Certified Accounting Technician)
Certificate Course in Financial Planning & Investment Management
Certificate Course in Tally Accounting
Diploma in Office Management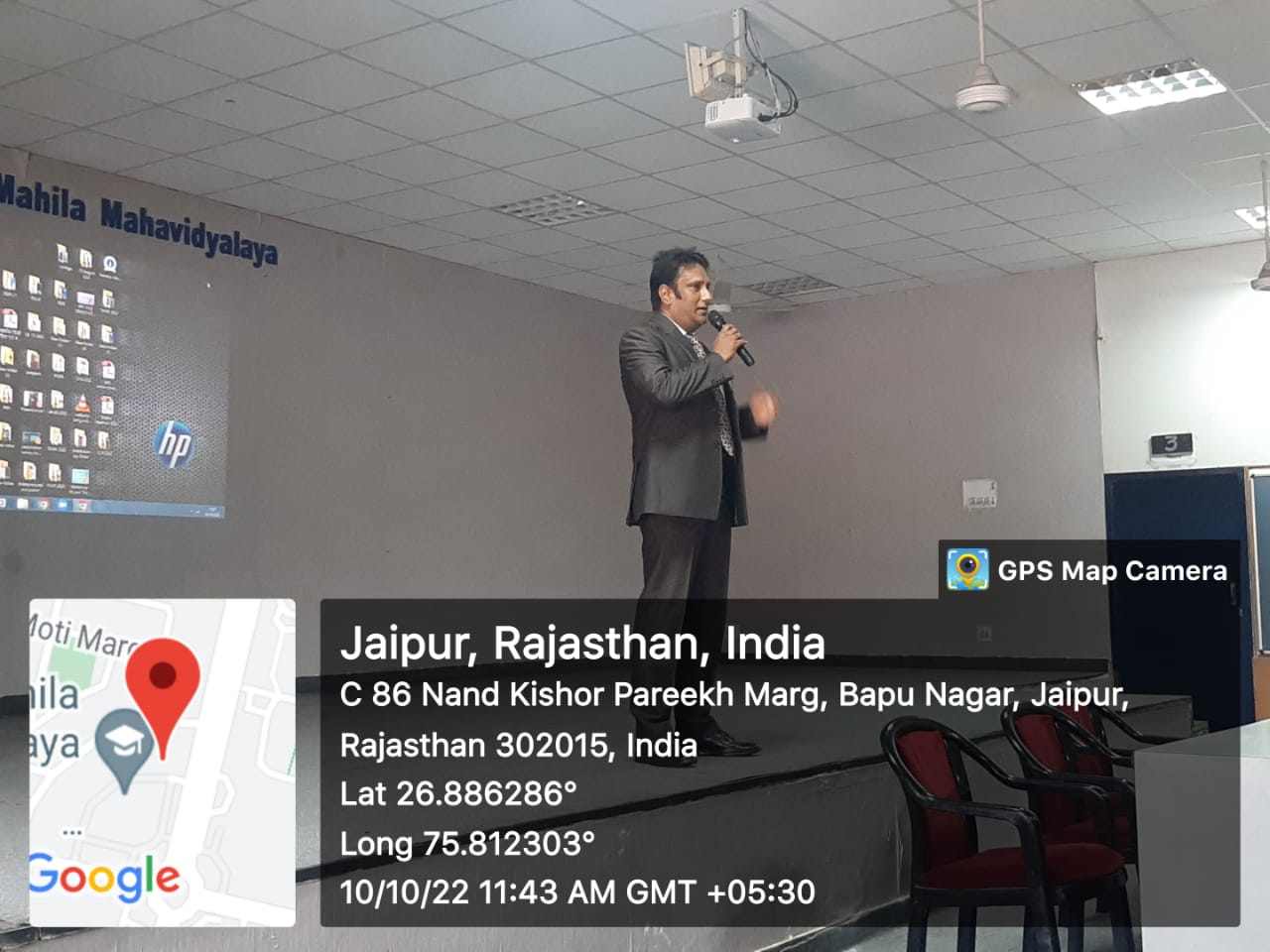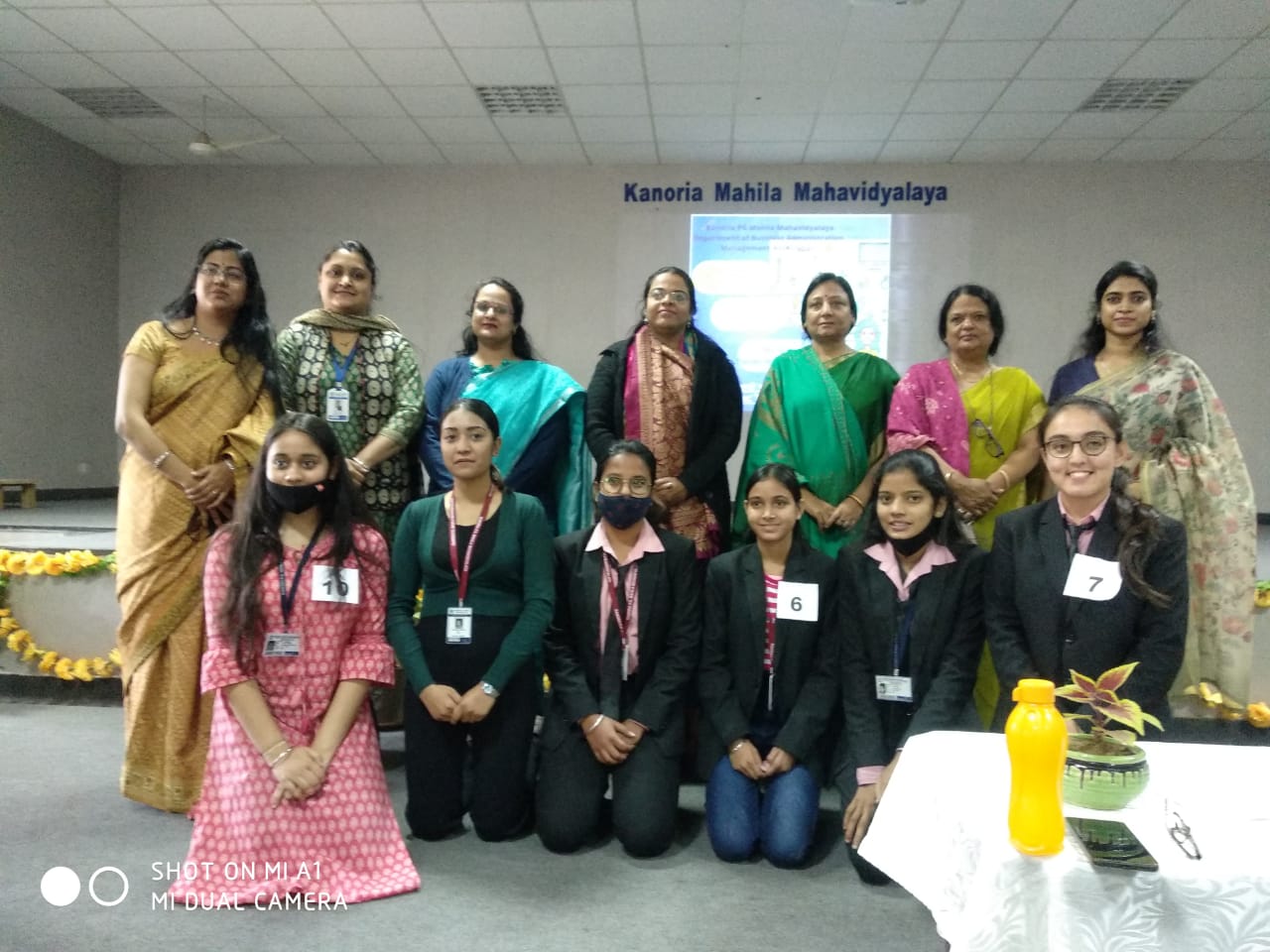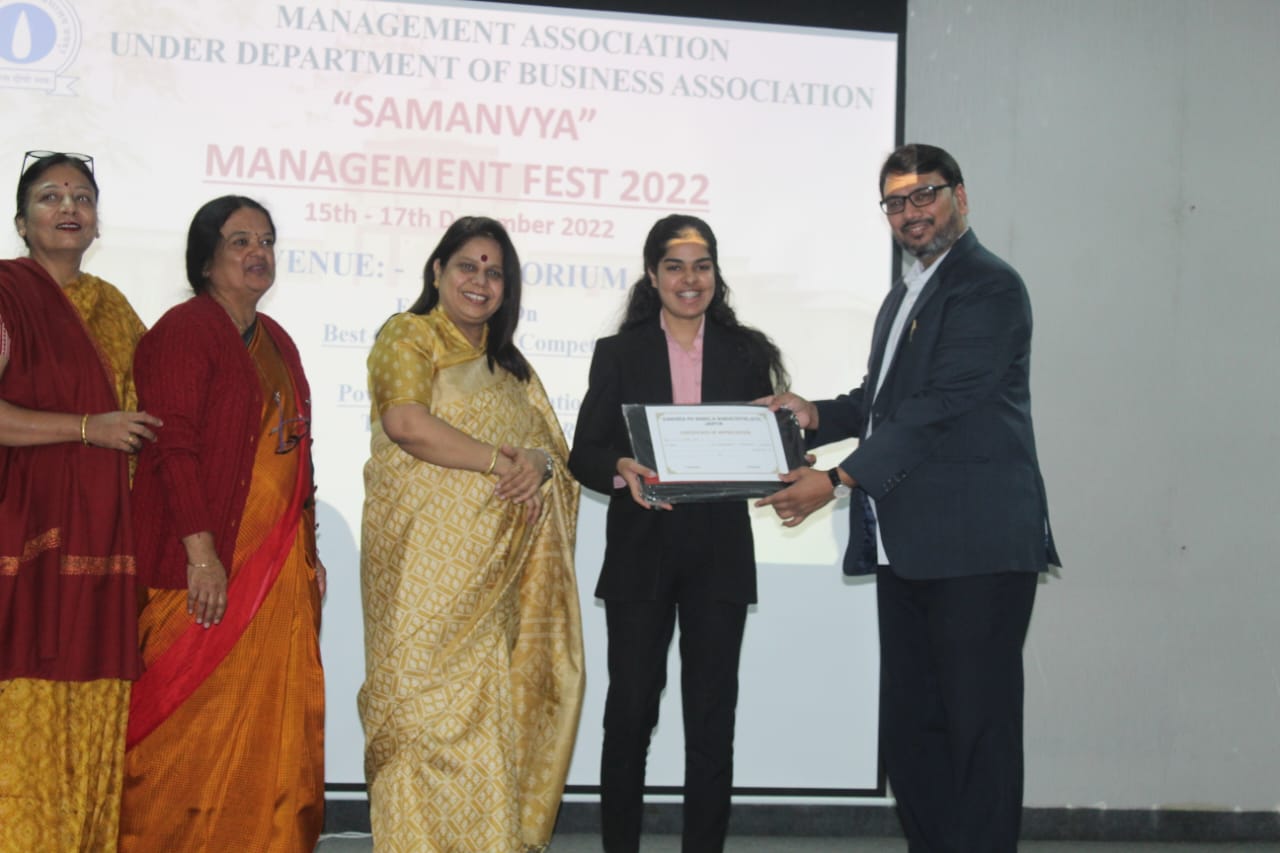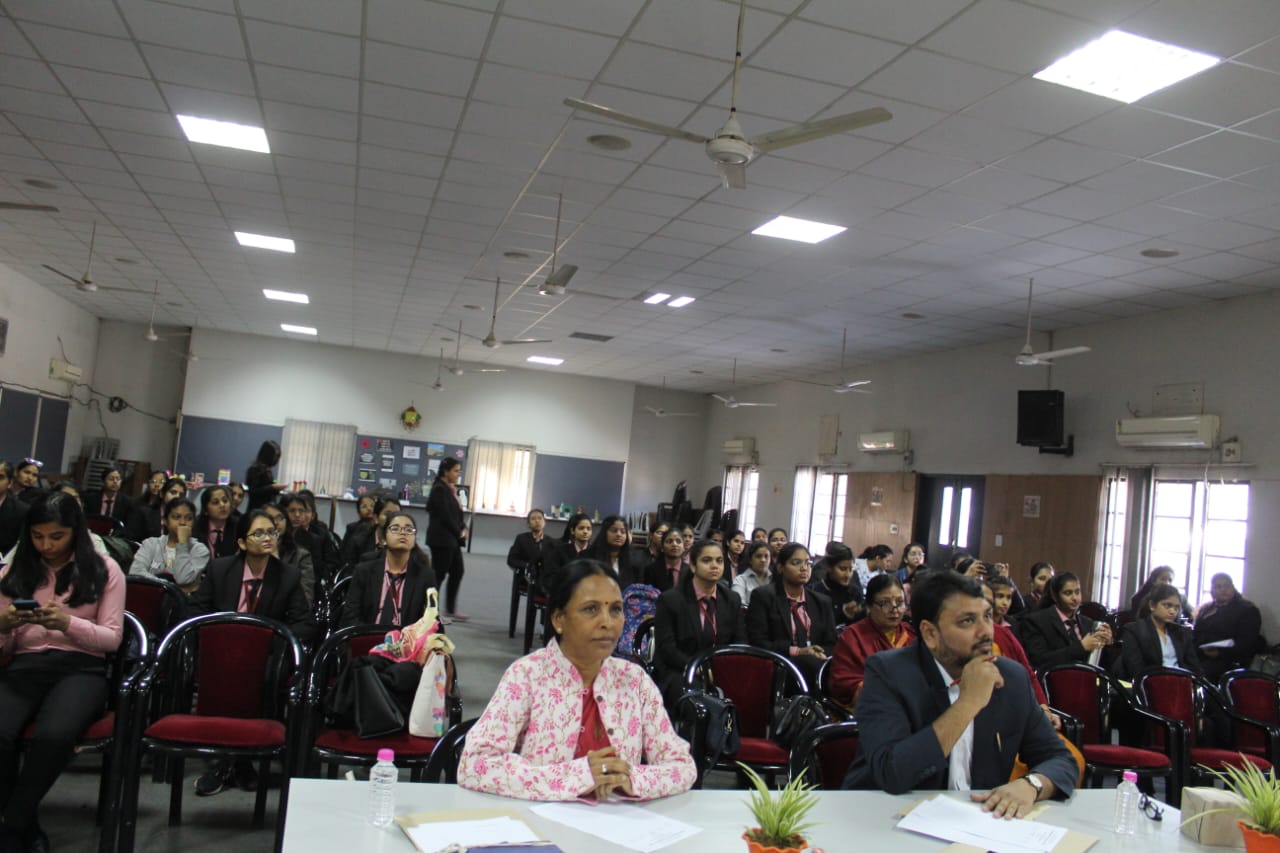 2022-23
| | |
| --- | --- |
| Date | Name of the Activity |
| September 22, 2022 | Seminar on Building a better linkedin Profile for Increased Visibility |
| October 10 - 15, 2022 | 6 Day Workshop on "Developing Skills          - The Ultimate Success Mantra |
| October 10 , 2022 | Extension Lecture on "Paradigm Shift in Leadership |
| November 7, 2022 | Interactive session on Effective Communication- The power of Body Language |
| February  9, 2023 | Session on How to carry Corporate make up and dusky skin care in interview |
2021-22
| | |
| --- | --- |
| Date | Name of the Activity |
| 8th - 10th July 2021 | 10 Day Departmental FDP |
| 22-23 July 2021 | 2 Day Industrial Motivational Campaign MSME |
| 18-Aug-21 | Business Quiz |
| 28-Aug-21 | Webinar on Research and Innovation in Business Management |
| 25-Sep-21 | Session on Campus to Corporate |
| 23-Oct-21 | Career Assesssment Test |
| 24-Nov-21 | Extension Lecture on Ethics in Advertising |
| 26- 27 Nov 2021 | Workshop on Communication Skills |
| 04-Dec-21 | Webinar on Digital Marketing - Useful Tools and Techniques |
| 9th - 10th July 2021 | Session  - Think Without Ink |
| 22-23 July 2022 | Webinar on Future of Management |
2020-21
| | |
| --- | --- |
| Date | Name of the Activity |
| | Soft Skills |
| 28-08-2020 | Quiz Competition on Management Guru C.K.Prahlad |
| 10-09-2020 | Interactive session on Multimedia Applications |
| | Language and Communication Skills |
| 22-10-2020 | Group Discussion on Global Market Challenges and its Impact on Business |
| | Life Skills |
| 27-11-2020 | Webinar on Learning Online: Strategies For Overcoming Challenges and Improving Outcomes |
| | ICT/ Computing Skills |
| 04-09-2020 | PPT Competition on Marketing Mix |
| 10-09-2020 | PPT Competition on Strategic Vision and Mission |
| 10-10-2020 | PPT Competition on School of Management Thought |
2019-20
| | |
| --- | --- |
| Date | Activity |
| 14-Aug-19 | PPT competition on indian entrepreneurs |
| 17-Sep-19 | Importance of various areas of HRM |
| sept 25 2019 | Emerging trends in OB |
| sept 25 2019 | Business quiz |
| oct 16 - 19  2019 | Management week |
| 19-Nov-19 | New dimensions of supply chain mgmt |
| Dec 13 -14 | CAMFEST |
2018-19
| | |
| --- | --- |
| Date | Activity |
| 08-Aug-18 | Extension lecture on Career Planning |
| Sept. 24 - 26, 2018 | Aptitude workshop |
2017-18
| | |
| --- | --- |
| Date | Activity |
| 11-Oct-17 | Enhancing Creativity in organisation |
| 08-Nov-17 | Workshop on- How to sharpen your mathematical aptitude? |
| 08-Nov-17 | Career Guidance in hospitality industry |
| 09-Nov-17 | Recruitment and selection in Banking sector |
| 15-Nov-17 | Extension lecture on management  practices |
2016-17
| | |
| --- | --- |
| Date | Activity |
| 13-Aug-16 | Achieving Excellence in Life |
| 03-Sep-16 | Seminar by students on Motivation |
| 16-Sep-16 | Digital marketing |
| 14-Oct-16 | Gandhian Quiz |
| 22-Oct-16 | PPT competition on Gandhian Thoughts |
Apoorva Nagpal : CMO Zucol ltd. Batch : 2016
Maria Bakshi : Language Trainer , Spain , batch 2019
Shiksha Gupta : Air Hostess, Indigo
Jaimini Luharia : Project associate,Mumbai Batch 2015
Priyal Verma : UGC NET 2017
Kajal Yadav : UGC NET, Assistant professor in Parishkar college , jaipur
Inel Choudhary : UGC Net June 2019
Anjali Khandelwal : UGC NET 2019
Neelam yadav: UGC NET June 2016
Deepika SDhekhawat : Boxing Championship
Shaila Saifi : Successful Entrepreneur
Tanisha Maheshwari : Successful Entrepreneur
Rashi Mathur : HR, Akal Information systems limited Batch 2016-2019
Kushalta Vijay: Accountant In Shree fabrics , Batch 2019
Divya Mundra : AFS Decathelon, Jaipur