Department of Computer Science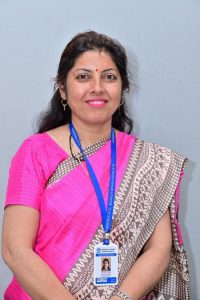 Name: Dr. Jayanti Goyal
Associate Professor & Head
Qualification: P.hd., MBA, M.Phil., M.Tech., M.Sc., Diploma in Digital Marketing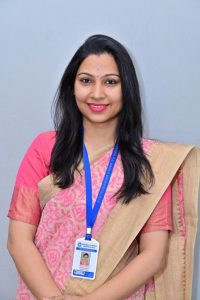 Name: Ms. Neelam Sunda
Qualification: Pursuing Ph.D. in Machine Learning (RTU Kota), MCA, NET Qualified
Experience: 6 Years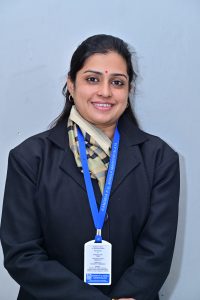 Name: Ms. Divya Sharma
Qualification: Research Scholar, MCA, MBA, Microsoft Office Specialist
Experience: 8 Year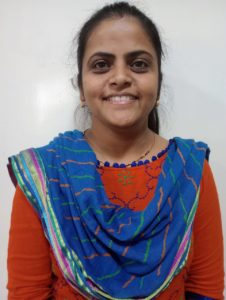 Name: Ms. Deepa Chauhan
Qualification: MCA, M.A. (Economics), Pursuing research in area of legacy code refactoring using TDD. 

Experience: 06 years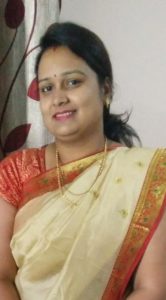 Name: Ms. Shilpa Pareek
Assistant Professor
Qualification: PhD Pursuing, BCA, MCA, Mtech(Gold medalist)

Experience: 09 years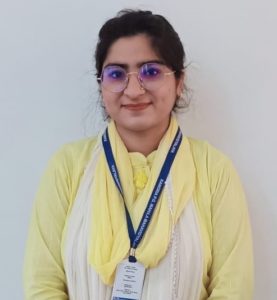 Name: Ms. Shabanam bano
Qualification: PhD computer science and engineering (pursuing), MCA, PGDCA, M.A, certified software programmer.
Experience: 2 years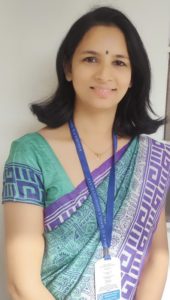 Name: Ms. Sonam Lowry
Assistant Professor
Qualification: M.Tech. , PGDBA, B.Tech. (Computer Science and Engineering)

Experience: 06 years 
Support and Laboratory Staff
UG Courses
Elementary Computers
Bachelor in Computer Applications (BCA)
Program outcomes
The BCA Course aims at inculcating essential skills as demanded by the global software industry through interactive learning process. This also includes team- building skills, audio- visual presentations and personality development programs
The Objective of the course is to develop skilled manpower in the various areas of software industry and Information Technology
The program enhances analytical, managerial and communication skill besides inculcating the virtues of self-study. The Curriculum has been designed to cater to the ever-changing demands of information technology along with necessary inputs from the Industry
BCA course strives to create outstanding computer professionals by enhancing knowledge about the concepts of Computer science, Networking, Web designing, programming languages like C, C++, Java etc
To develop the basic programming skills to enable students to build Utility programs.
Career opportunities
There are many career prospects available after BCA, including ample job opportunities and professional courses. Depending on what you choose, your career can take a different route to help you progress further. There are various career options after BCA in both the private and public sectors along with their scope and future career prospects
Software developer trainee - A trainee is responsible for developing software while learning and getting hands-on practice in different computer languages
Data scientist –As a data scientist, your job will include tasks related to data visualizations, data mining, analyzing data using tools and software.
Bank operations -Banking is a lucrative sector and you can pursue a banking job after BCA which mostly includes technical roles
Technical analyst - The responsibilities include implementing IT procedures and systems for efficiency, suggesting technological applications to reduce the cost, evaluate and monitor IT systems, making predictions on stock growth and so on.
Web developer - The web developer job after BCA primarily involves the creation and maintenance of websites
E-commerce executive –As an e- commerce executive, you will be responsible for managing the company's digital and retail presence.
Teacher -If you possess subject-matter expertise and have an interest in teaching, then you can take up a teaching job after BCA. Many private institutions hire BCA graduates as teachers. Apart from that, you can also choose to teach online on various online teaching platforms. After MCA, NET and Ph.D. you can apply for College lectureship also.
Digital marketer - Roles and responsibilities usually include optimizing web content, marketing
analytics, SEO optimization, content marketing, use of online tools such as WordPress, MailChimp and more
Cyber security expert - It is an emerging field with many jobs, especially in areas of social media cyber security for companies as well as individuals. As a cyber-security expert, the job role involves networking, application and data security using sophisticated tools.
Government sector jobs -There are many opportunities available for BCA students in the government sector. BCA degree holders can opt for entrance exams such as UPSC, SSC, CGL, RPSC and more.
Public sector jobs – Many public sector jobs after BCA are available to deserving candidates. Companies like Steel Authority of India, BHEL, etc. take BCA graduates for different profiles.
Freelancing – Freelancing is another interesting career choice for BCA graduates. They are mostly hired on a project basis to help these companies set up their website portals and help optimize their digital strategy.
Block chain professional -The job role primarily involves working with tools of block chain technology such as Ethereum and Bitcoin protocols, Java, Solidity and more.
Master's or Post-graduate degree – For those who are looking to up-skill and gain more knowledge to meet the ever- evolving demands of the IT industry, they can pursue a postgraduate degree in the same field. Masters in Computer Applications or MCA to dig deeper into this field and gain expertise in computer applications. Other Master's degree are like M.Sc. (IT/CS), MBA, MIM (Masters in Information Management), MCM (Masters in computer management), PGDCA, PGDIS etc.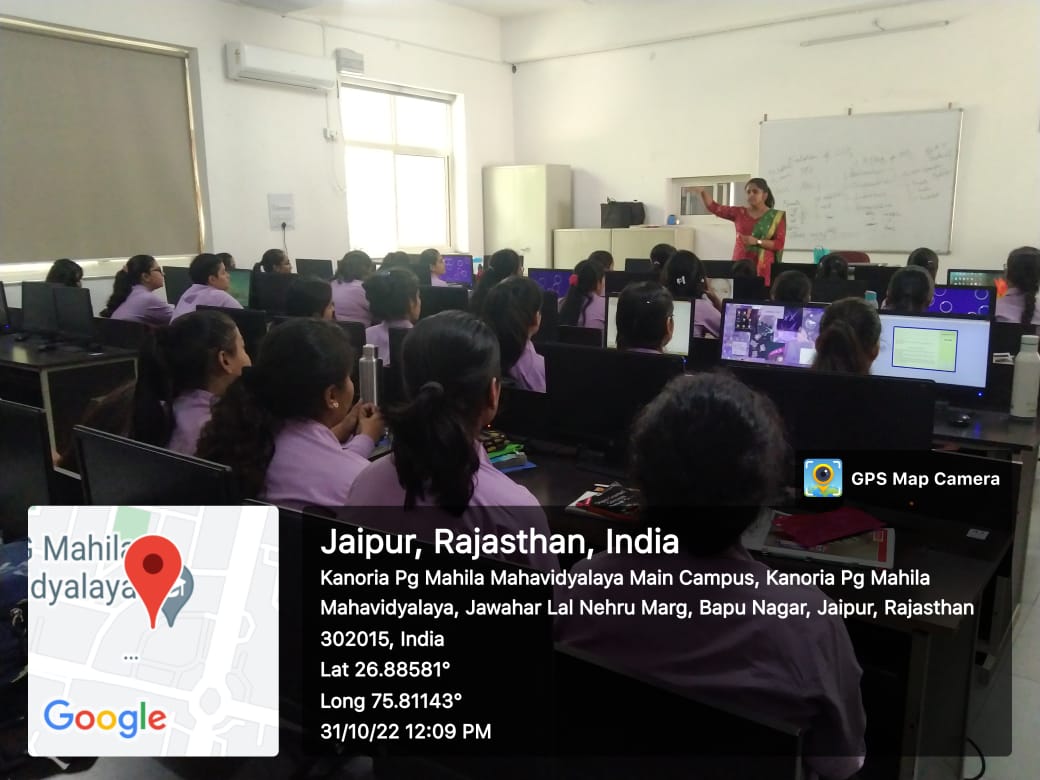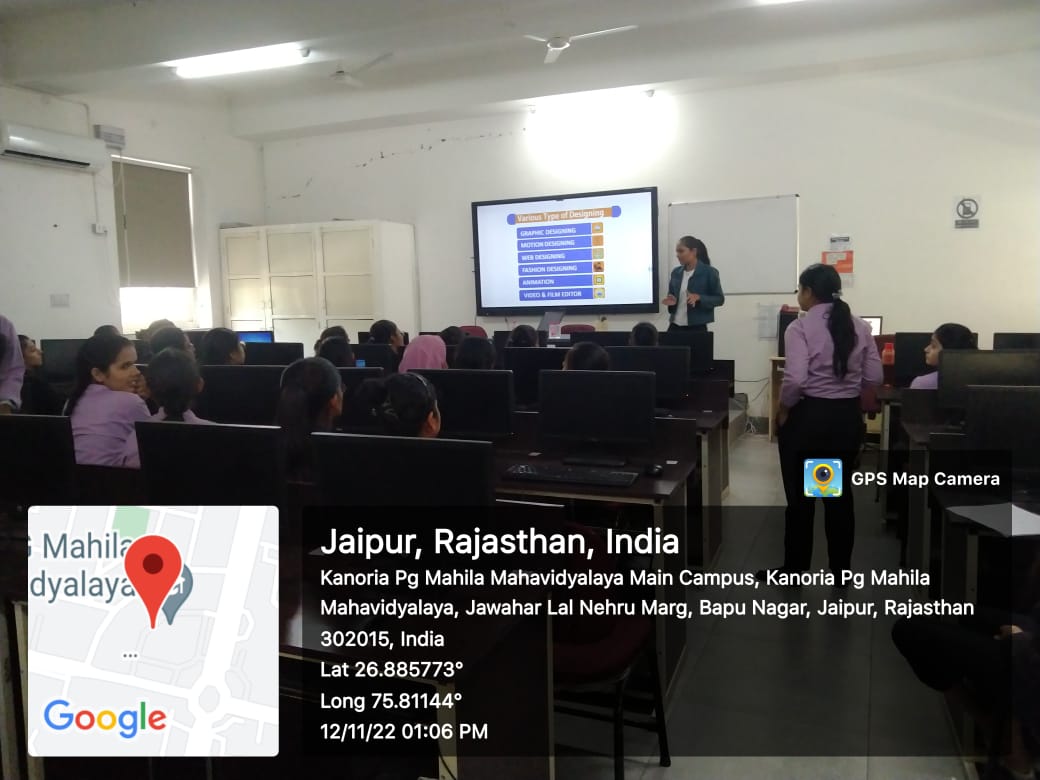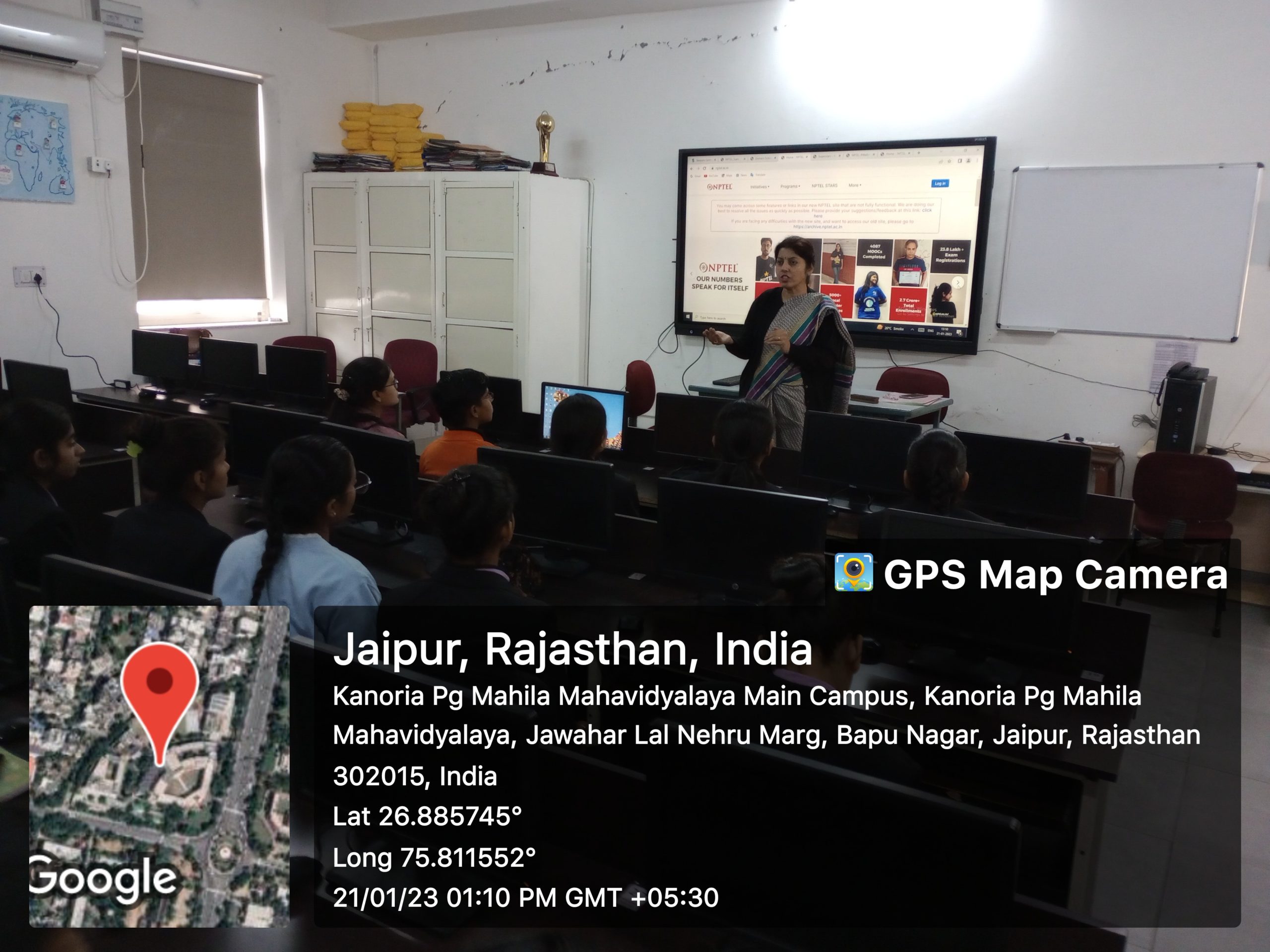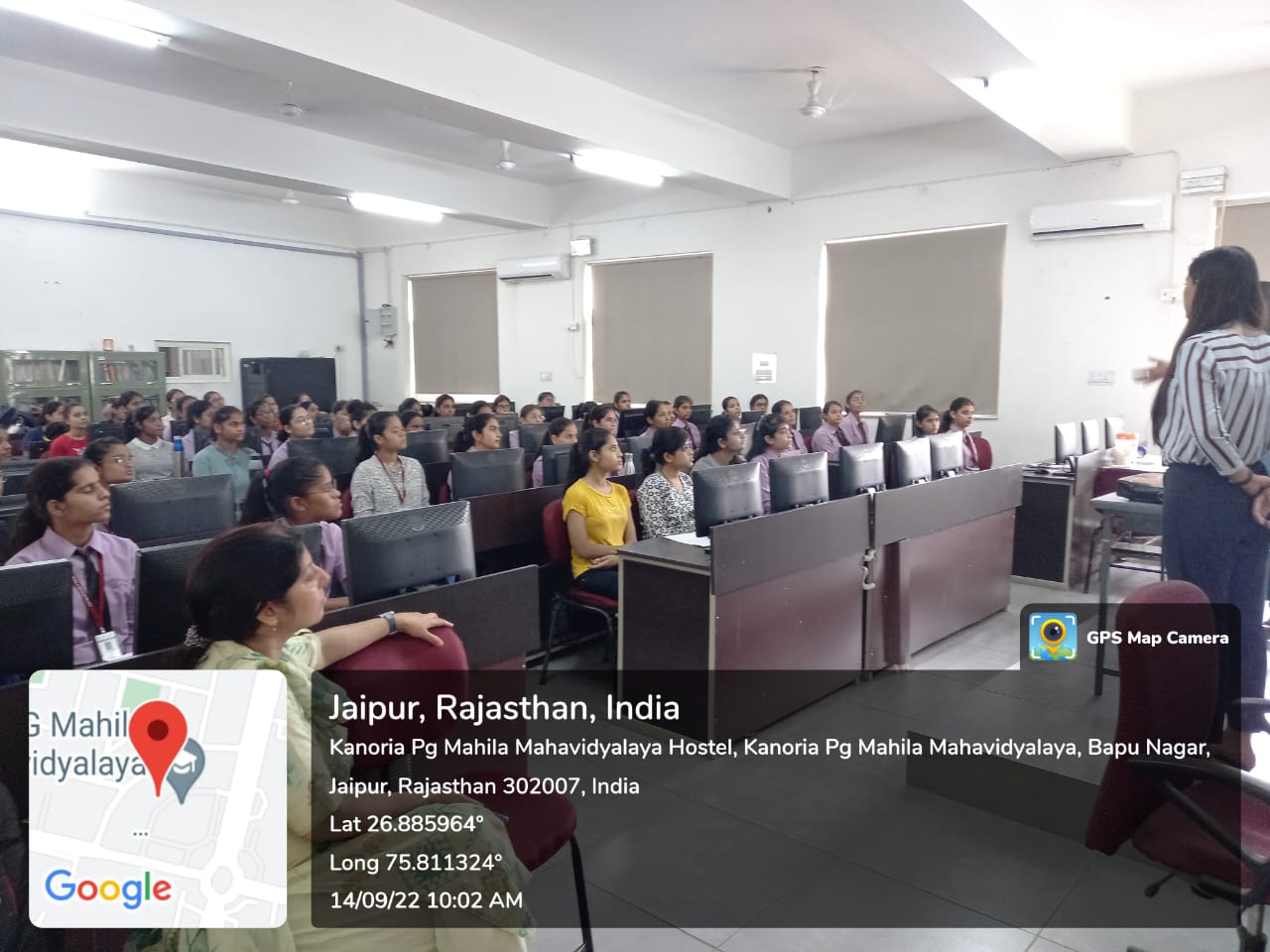 Session 2022-2023 
S. No. 
Name and Type of Activity 
Date 
1
Seminar on Salesforce Technology by Ms. Bhoomika Tripathi, Ms. Neha Sharma from Brisk Minds.
14/09/2022
2
Session on Code of Conduct by Ms. Deepa Chauhan from Kanoria PG Mahila Mahavidyalaya.
31/10/2022
3
Session on Graphic design by Ms. Radhika Khandelwal (Alumna BCA Batch 2021), Quality Analyst at Ingenuity Gaming Pvt Ltd and a Technical trainer at ATAL tinkering lab.
12/11/2022
4
Session on Software Quality Assurance by Ms. Vidushi Bhatnagar (Alumna BCA Batch 2020) Quality Assurance Engineer at Metacube Software Pvt. Ltd.
03/12/2022
5
PowerPoint Presentation Competition by the students of BCA organized Computer Department.
07/12/2022
6
Awareness on NPTEL (National Programme on Technology Enhanced Learning a project of MHRD) Courses by Dr. Jayanti Goyal Head Computer Science Department.
21/01/2023
Session 2021-2022 
S. No. 
Name and Type of Activity 
Date 
1
Workshop on Physical Fitness by Saloni Poddar, Personal Trainer, Yoga Instructor and Sports Nutritionist
25-08-2021
2
Session on Feminine Hygiene by Dr. Parmila meena, Gynaecologist at Jaipur National University, Jaipur
22-08-2021
3
Trainning Session on Soft Skills Conducted by Mr. Shiv Kumar Sharma, IT Trainer at Poddar Group of Institutes, Jaipur
08/12/2021
4
Webinar on "How to Prepare for NIMCET Exam" by Alumna's Ms. Pari Jain and Ms. Aditi Patidar from NIT Bhopal
24-1-2022
Session 2020-2021 
S. No. 
Name and Type of Activity 
Date 
1
Workshop on Hands on Jamboard, conducted by  Ms. Swati Sharma Assistant Professor, Kanoria  PG Mahila Mahavidyalaya, Jaipur
14-09-2020
2
An International Talk on "Campus to Company", by Ms Rishika Atrey (Alumna),  Ms.MayuriTank (Alumna)
28-11-2020
3
Workshop on Self Defense conducted by Mr  Vedant Bhardwaj, Director & Chief instructor  Savior Institute
23-12-2020
Session 2019-2020
S. No. 
Name and Type of Activity 
Date 
1
Technical Field visit at Bhamashah Techno Hub,  Jaipur
16-10-2019
2
Seminar on Windows administration conducted  by Mr. Praveen from Euonous solutions Pvt. Ltd.
07-11-2019
3
Seminar on Digital Marketing conducted by  Ojha Prakash from DVS web infotech Pvt. Ltd.
05-12-2019
4
Power point presentation competition by BCA I  students conducted by Department of Computer  Science, KMM, Jaipur
11-12-2019
5
Power point presentation competition by BCA II,  III students conducted by Department of  Computer Science, KMM, Jaipur
18-12-2019
Session 2018-2019
S. No. 
Name and Type of Activity 
Date 
1
Workshop on skills to save life conducted by  State institute of Health and family welfare  (SIHFW)
20-08-2018
2
Seminar on Secure Coding conducted by  Saksham Chaudhary from Learn code  online Pvt. Ltd.
29-08-2018
3
Technical field visit, to Dev Milk Food Pvt. Ltd.
22-09-2018
4
Workshop on Web Development and web designing, conducted by Mr. Saurabh from  Aptron technologies New Delhi
24-10-2018
Session 2017-2018 
S. No. 
Name and Type of Activity 
Date 
1
Seminar on Internet of Things conducted by Mr.  Sandeep from Techinext Pvt. Ltd.
11-10-2017
2
Seminar on Ethical hacking conducted by  Rizwan Sheikh from Kvach Pvt.Ltd.
22-11-2017
Session 2016-2017
S. No. 
Name and Type of Activity 
Date 
1
Seminar on How to use Technical  Resources by Dr. Jayanti Goyal Associate  Professor from Kanoria Mahila  Mahavidyalaya, Jaipur
13-08-2016
Do you have more questions?
Kanoria PG Mahila Mahavidyalaya
Near Gandhi Circle, J.L.N. Marg, Jaipur (Rajasthan)- 302004
admissions@kanoriacollege.in
+91-141-2707539
Admission Helpline No.: 9057807070
(10:00 AM to 06:00 PM)
Tell us a little about yourself and we'll help with the rest. Our convenient online application tool only takes 10 minutes to complete.
Once you've completed your application and connected with an admissions representative, you're ready to create your schedule.