Kanoria Mahila Mahavidyalaya was established on 19th July 1965, under grant in aid scheme of the Government with UGC Status 2F & 12B by Late Bhagirath Ji Kanoria, with an aim to develop a passion for learning among young women of Rajasthan. The college is affiliated to University of Rajasthan, Jaipur. From the session 1993-94, the college began with PG courses and was renamed as Kanoria PG Mahila Mahavidyalaya. The college exists in the aesthetic environs of Jawahar Lal Nehru Marg as the first institution of higher education for women through grant-in-aid from Government of Rajasthan. Later in the Year 2012 the Government of Rajasthan suspended the Grant-in-aid scheme which made the college self-financed Institute.  Moving forward in its 57 years of luminous journey, the college has emerged as one of the leading institution not only in Jaipur but also in the State of Rajasthan. With a view to impart education the college aims at disseminating not only knowledge and facts but also emphasizing on value based holistic development. Earning a prestigious reputation of harnessing a progressive outlook towards education, the college has introduced new courses at Undergraduate (UG) and Postgraduate (PG) levels from time to time along with the skill development and career oriented courses.
The college perceives education as the means of developing one's greatest abilities, because in each person there is an aspiring dream and hope which, when fulfilled, can be transformed, benefitting the society, and strengthening the Nation. Keeping this in view, college offers 11 programmes at UG and 14 programmes at PG level in Arts, Science, Commerce, Fine Arts, Computers, Bio Technology, Business Administration, Fashion Designing, Media and Entertainment (with internal choices in every stream) etc. College had a humble beginning with number of 65 Students in 1965 and has now grown into an institution with more than 6700 students, 142 teaching staff members and 100 support staff members. In addition to the regular programmes, Diploma and Certificate Courses are also running successfully in the college.
The state-of-art infrastructure and facilities available on campus are amongst the best. It is a wholly self-contained campus comprising of everything that students on campus would ever require. The spirit of learning depends on the atmosphere built up around the campus, the zeal carried by the teachers and imparted through facilities like library, rich in quality books including e-resources, well maintained laboratories, excellent equipment, spacious seminar rooms, auditorium, study halls, creativity zone, with additional facilities like gymnasium, swimming pool, cafeteria, playground, parking, crèche and nursery. A well-maintained hostel is also in the college campus with a capacity to accommodate 350 students.  College is religiously determined to keep in pace with the environmental sustainability and thus has a large solar system for energy conservation, rainwater harvesting structures, composting pits, decomposing machine for waste management etc.
College idealizes education as a passport to the future, for tomorrow belongs to those who prepare for it today. Therefore, institution has exceptional brigade of alumni representing the legacy of knowledge and values gained from their journey as college students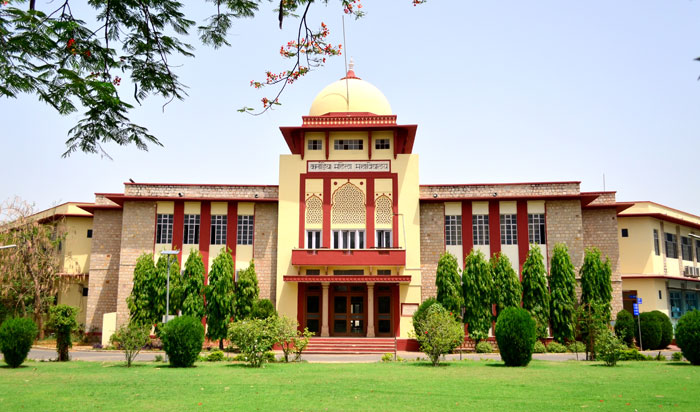 MOST TRANSFORMATIVE COLLEGE
In 1965, by Late Bhagirath Kanoria in aesthetic environs at Jawahar Lal Nehru Marg as the first institution of higher education for women through grant-in-aid from the Government of Rajasthan
A Glorious Past to a Bright Future
| History | Date |
| --- | --- |
| Kanoria College Inception in Deaf & Dumb School | 1965 |
| Shifted to present Campus | 1967 |
| Commencement of Science Stream | 1971 |
| COHSSIP Program | 1975 |
| Inauguration of Hostel | 1981 |
| Commencement of Commerce Stream | 1985 |
| New Library Building | 1991 |
| Post-Graduation in Humanities & Social Science | 1993 |
| Post-graduation in Environmental Science | 2001 |
| Nand Lal Kanoria Complex with Swimming Pool | 2007 |
| Commencement of BBA | 2007 |
| Commencement of BCA & BSc Biotechnology | 2008 |
| Hostel Expansion | 2009 |
| Post-Graduation in Commerce | 2013 |
| Post-Graduation in Drawing & Painting and Geography | 2014 |
| TISS-SVE Collaboration for Skill Enhancement Courses | 2014 |
| IGNOU (Indira Gandhi National Open University) Study Centre | 2015 |
| iECEN collaboration for Fashion & Design Course | 2015 |
| Post-Graduation in Botany, Chemistry and Zoology | 2016 |
| PGDCA | 2017 |
| Post-Graduation in Physics and Mathematics | 2018 |
| Bachelors in Economics Honors | 2018 |
| MJMC | 2018 |
| Bachelors in Political Science Honours | 2019 |
| Post-Graduation in Hindi Literature | 2019 |
| Bachelor of Science in Home Science | 2019 |
| Garment Production & Export Management as a subject in B.Com and BA | 2021 |
| NARIKA Incubation Centre | 2021 |
Light within, Lights the way
Light within, Lights the way
We prepare you to extend the outreach of women's education. Our mission is to create an understanding of the complexity of human history and culture through engagement with social, political,  aesthetic and scientific issues.