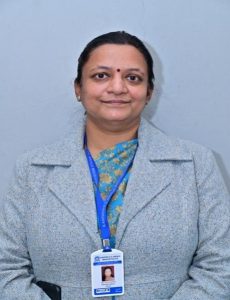 Name: Dr. Ritu Gupta
Associate Professor & Head                                                                          
Qualification: MSc, PhD, NET
Experience: 19 Years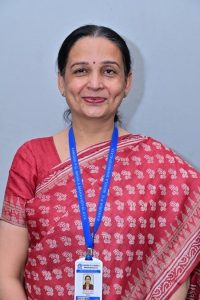 Name: Dr. Ritu Jain
Qualification: MSc, PhD
Experience: 17 years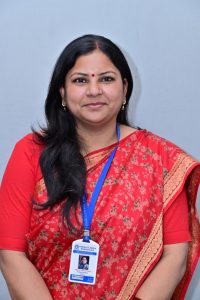 Name: Dr. Reema Srivastava
Assistant Professor
Qualification: M.Sc, Ph.D
Experience: 11 years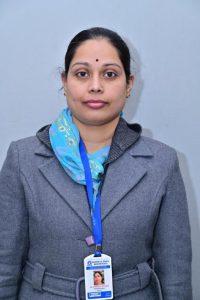 Name: Dr. Aparna B Rathore
Assistant Professor
Qualification: M.Sc., SET, Ph. D.
Experience: 10 Years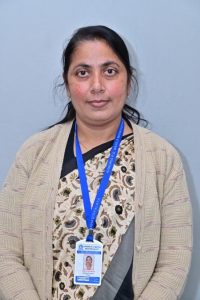 Name: Ms Yogita Solanki
Assistant Professor
Qualification: M.Sc., M. Phil, B. ed. SET (Ph. D pursuing)
Experience: 9 Years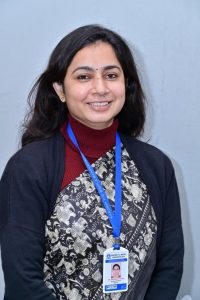 Name: Dr. Kamakshi Tomar
Assistant Professor
Qualification: M.Sc., MBA, Ph. D
Experience: 12 Years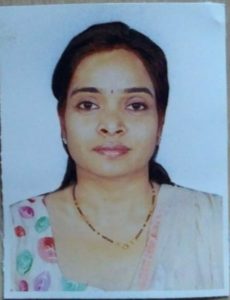 Name: Dr.Deepika Arya
Assistant Professor
Qualification: MSc,  NET, PhD, PDF
Experience: 05 Years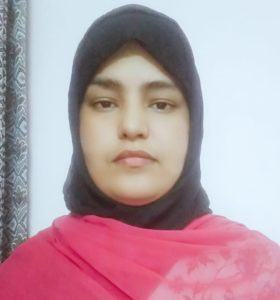 Name: Dr. Yashmin Akhtar
Assistant Professor
Qualification: M.Sc , Ph.D
Experience: 04 Years
Support Staff
Programs offered
UG Courses
B.Sc. -Pass Course
PG Courses
M.Sc- Botany (Semester Scheme)
Program Outcomes (B. Sc.)
Students get trained in various areas of plant sciences and enhance their skills. They understand the basics of botany and fundamental processes of plants. They learn to carry out practical work in the lab as well as in the field.  They understand the environmental issues and their impact on society. Students learn to communicate through various electronic modes and express themselves effectively.
Understand the basic concepts of Cell Biology, Ecology, Microbiology, Genetics and Plant Breeding along with Morphology, Anatomy, Embryology and Physiology of plants.
Identify the plants on the basis of taxonomic characters and learn the economic importance of plants and their uses for social welfare.
Learn the classification and characteristics of Algae, Fungi, Bryophyta, Pteridophyta, and Gymnosperms as well as identify plant diseases on the basis of their symptoms and learn control measures.
Program Outcomes (M. Sc.- Botany)
After completing Post Graduation in Botany the students get equipped with subject domain knowledge and technical skills pertaining to plants in a holistic manner. Practical application of theoretical concepts is taught with substantial coverage of practical and field works. They have exposure to the latest technologies that are currently used in the subject. The students become competent in various analytical, molecular and technical skills related to botany and learn applications of the instrumentation. It makes them capable of performing short research projects in botany and develops scientific temperament and research aptitude. The students are able to qualify competitive exams like NET, SET and GATE.
Learn diversity and classification of Algae, Fungi, Bryophytes, Pteridophytes and Gymnosperms as well as learn isolation and culture of Fungi and Algae.
Understand the ultrastructure and function of cell membranes, cell to cell communications, signal transduction and evolution.
Understand principles of taxonomy and are able to prepare artificial keys for easy identification of plants.
Gain knowledge on the concept of plant pathology and microbiology.
Learn the internal structure and their morphological development of plants through advanced microscopic techniques.
Acquire basic proficiency in common lab techniques of molecular biology.
Acquire advanced knowledge of plant physiology and biochemistry.
Get deep insight into plant tissue culture, genetic engineering and phytochemistry.
Understand molecular and physiological adaptations in plants in response to biotic and abiotic stress.
Career opportunities
They can be employed by various recruiting companies, agencies and organizations like: Central Council for Research in Homeopathy, Wildlife Institute of India, Forest Research Institute, Union Public Service Commission, Recruitment for Research Associate (Botany), Botanical Survey of India, Indian Agricultural Research Institute and Indian Council of Forestry Research and Education (ICFR) etc.
After completing Graduation and Post-graduation from Botany students can pursue their career as Taxonomist, Agriculturist, Researcher, Curator (Herbarium), Cell biologist, Entrepreneur, Florist, Ecologist, Forestry consultant, Laboratory Assistant, Nursery Operator, Research Assistant, Soil Scientist, University Professor.
The Department prepared a book "Plants in the campus" describing various fruit trees, ornamental, seasonal, indoor and wild plants present in the college campus.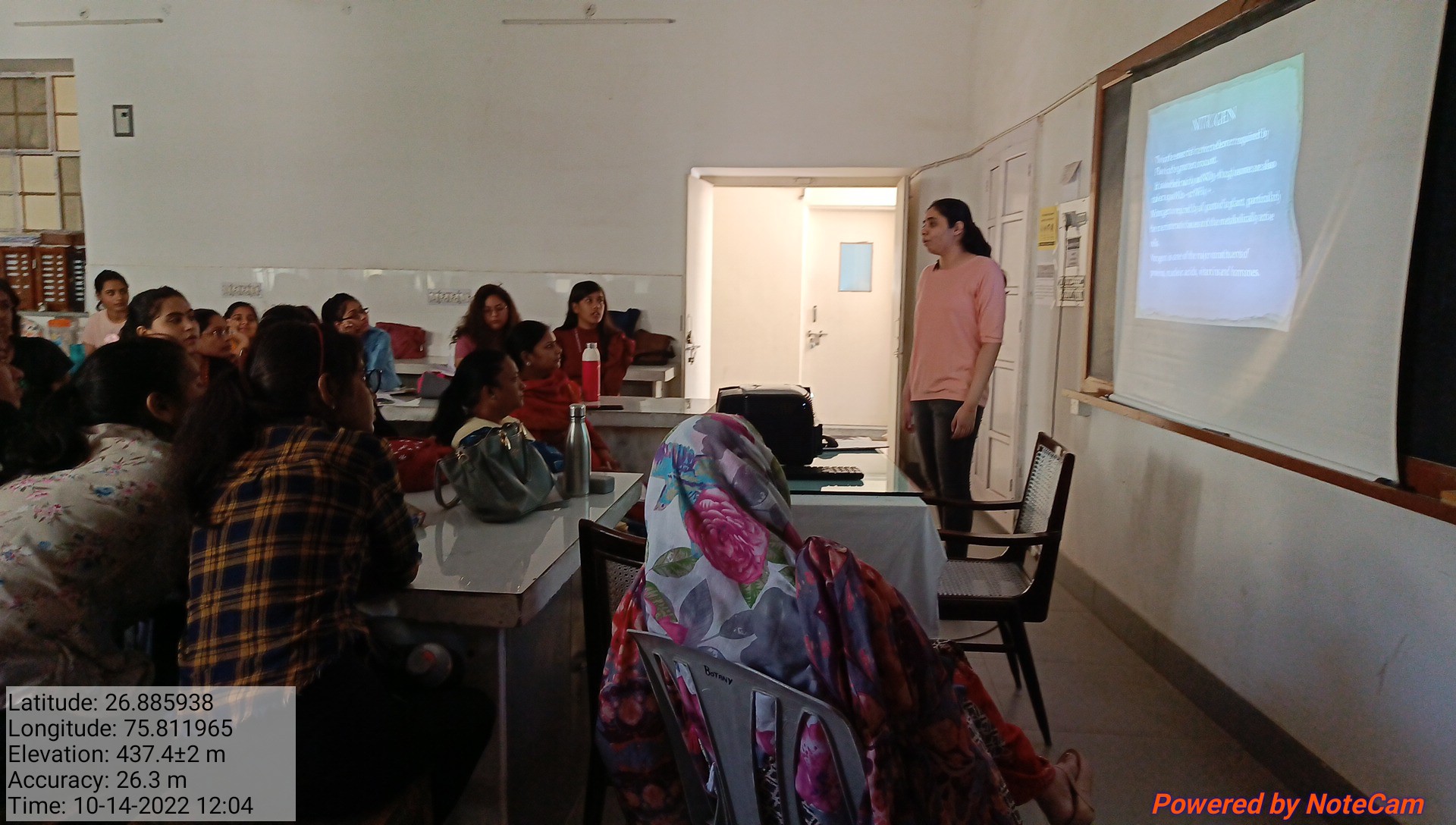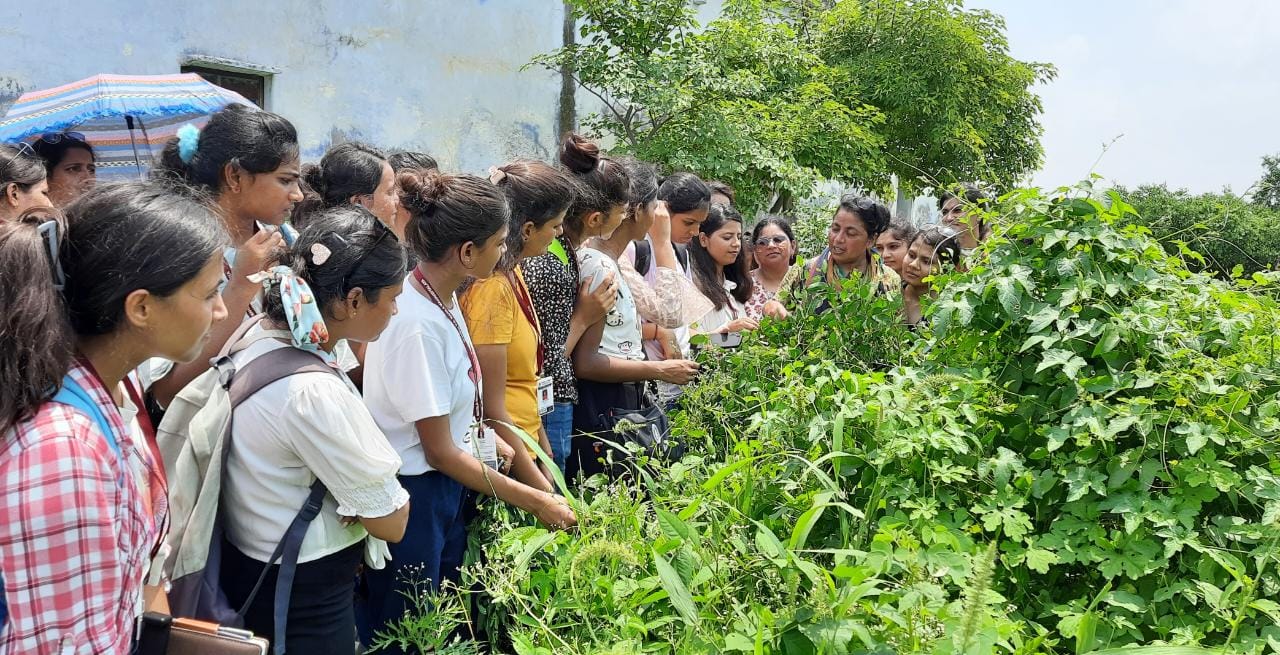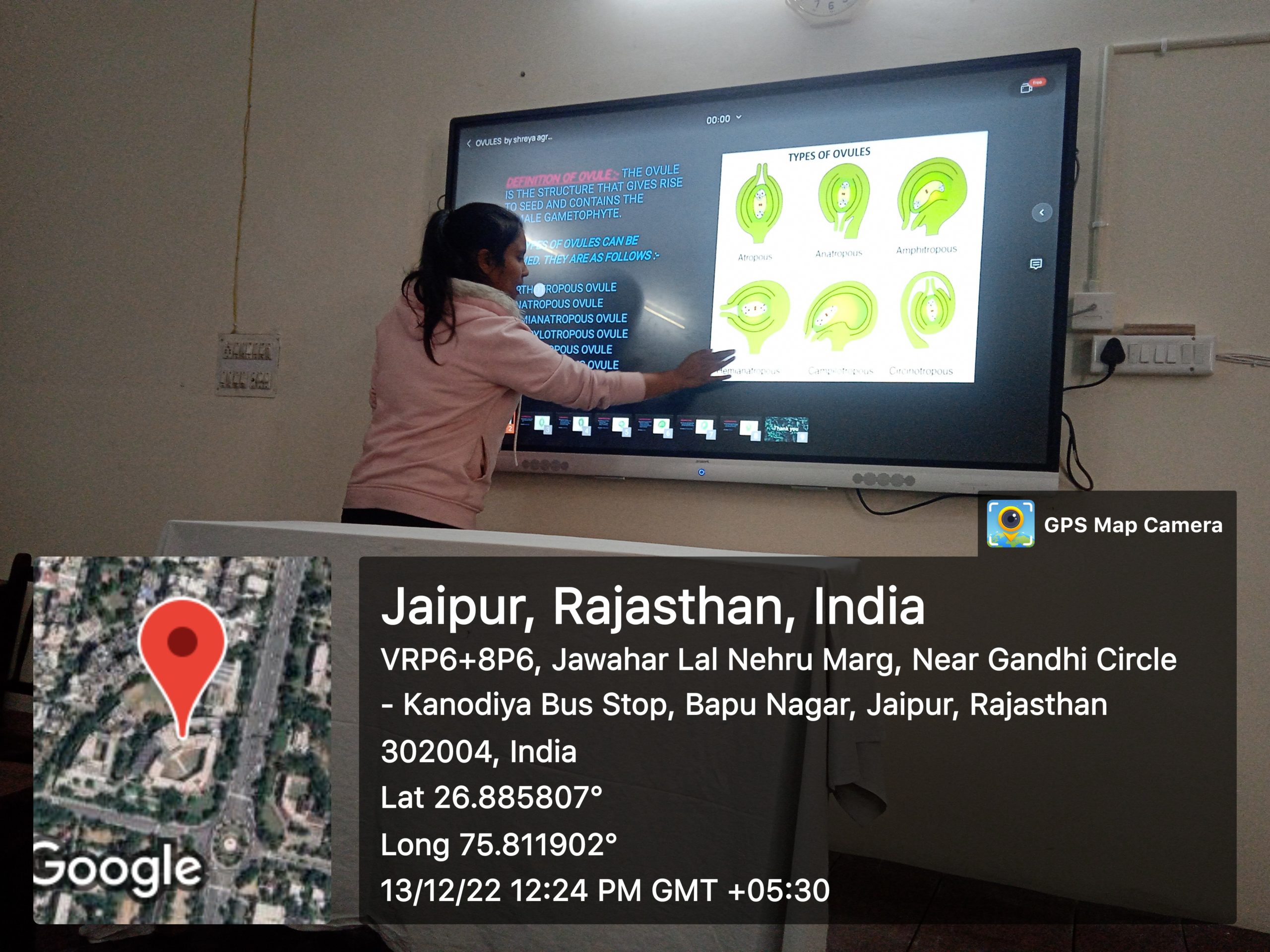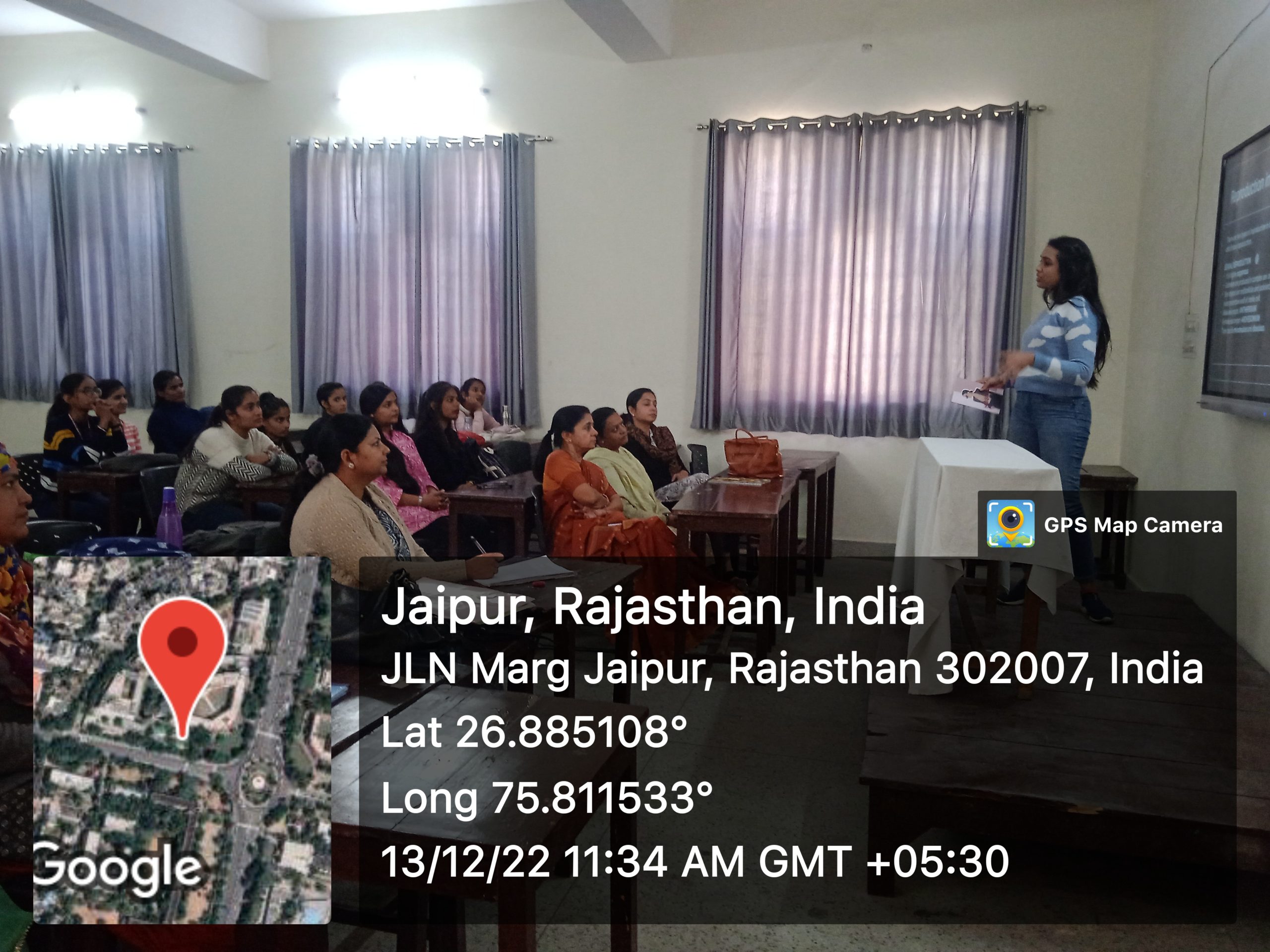 Session 2016-17  
Event/Activity
Date
Power point Presentation by B. Sc. Part II students
11thNovember,2016
Botanical Excursion to Keoladeo National Park, Bharatpur
16th November,2016
Science Chart/ Model Exhibition
07th December,2016
Extension lecture – Biodiversity conservation-policies and challenges by Dr. Soumana Datta, Assoc. Prof., Dept. of Botany, Univ. of Rajasthan
19th January,2016
Session 2017-18
Extension lecture – Plant Identification and Artificial Key Preparation by Dr. Amit Kotiya, Asst. Prof., Dept. of Botany, Univ. of Rajasthan
08th September,2017
UN Day Celebration – Ozone Day (Poster making competition)
15th September,2017
Powerpoint Presentation by B. Sc. Part II students
19th September,2017
Wildlife week Celebration (Photography Competition)
10th October,2017
CSR activity -  Maruti Drive Safe Program in association with Maruti Driving School and Institute of Driving and Traffic Research
11th October,2017
Extension lecture – Tools and Techniques in Molecular Biology by Dr. Rohit Jain, Asst. Prof., Dept. of Biosciences,
01st November,2017
Botanical Excursion to Bisalpur Dam, Tonk
09th November,2017
Science Chart/ Model Exhibition
29th November,2017
National seminar on Innovative Approaches in Biosciences in collaboration with Indian Science Congress Association (ISCA) Jaipur Chapter and NABARD
15-16th December,2017
Session 2018-19  
Powerpoint Presentation by B. Sc. Part II students
03rd October,2018
Extension lecture –PCR and RT PCR by Dr. C.P. Singh, Asst. Prof. Dept. of Botany, Univ. of Rajasthan
05th October,2018
Botanical Excursion to Keoladeo National Park, Bharatpur and Fatehpur Sikri
22nd November,2018
Science Chart/ Model Exhibition
05th December,2018
Hands on workshop on Genetic modification of desired genes using CRISPR Technology in association with E-cell fest, IIT Kharagpur
22-23 January,2019
Session 2019-20  
Power point Presentation by B. Sc. Part II students
19th September,2019
Extension lecture – Calculating City Biodiversity Index ( Singapore Index) : Effective Strategies by Dr. Soumana Datta, Head, Dept. of Botany, Univ. of Rajasthan
24th September,2019
Botanical Excursion to Jamwa Ramgarh Wildlife Sanctuary
01st October,2019
Group discussion on Medicinal Importance of Ingredients of Indian Food for B. Sc. Part III
02nd October,2019
Powerpoint Presentation by M. Sc. Sem I students
14th October,2019
Science Chart/ Model Exhibition
11th December,2019
Session 2020-21  
Wildlife week Celebration (Quiz, Poster and Powerpoint presentations)
3-8th October,2020
Powerpoint Presentation by M. Sc. Sem III students
15-17th December,2020
Three days' workshop on Molecular Biology Techniques for young researchers
28-30th January, 2021
Session 2021-22  
UN Day Celebration – Ozone Day ( Virtual talk on Introduction to the Earth's sunscreen: The ozone layer) By Ms. Prasphutita Nanda, Scientific officer, Rajasthan State Pollution Control Board
16th September,2021
Power point Presentation by B. Sc. Part II students
27th September,2021
Virtual Plant Identification Quiz for PG students
27th October, 2021
Virtual Plant Identification Quiz for UG students
26th November,2021
Powerpoint Presentation by M. Sc. Sem II students
3rd  December,2021
Workshop on Tray Garden by Ms. Anshul Avasthi, Founder Anaya creations
4th December,2021
Extension lecture – Elements of Scientific writing- Some Do's and Don'ts By Dr. Deepak Kumar Gupta, Consultant statistician & Chief Analyst, C DART.
28th January,2022
Session 2022-23  
Botanical Excursion to Keoladev National Park, Bharatpur, Rajasthan
6th August,2022
Power point Presentation by B. Sc. Part II students

14

th October,2022
Science Chart/Model Exhibition
16th November, 2022
Power point Presentation by M. Sc. Sem I students
13th December, 2022
Two days workshop on Field and Herbarium Techniques
20-21January, 2023
| Name of the student | Year | Exam Qualified | Name of the Institution Joined |
| --- | --- | --- | --- |
| Barkha Chhipa | 2020 | CSIR-NET JRF | Banasthali Vidyapeeth (for Ph.D) |
| Kiran Choudhary | 2020 | CSIR-NET | Banasthali Vidyapeeth (for Ph.D) |
| Taruna Sharma | 2020 , 2021 | CSIR-NET , GATE | Banasthali Vidyapeeth (for Ph.D) |
| Sakshi Singh | 2021 | GATE | Byju's Tuition Centre, Jaipur (As Biology Faculty) |
| Jagrati Agarwal | 2020 , 2021 | Ph. D. Entrance (RET), CSIR -NET | Mohan Lal Sukhadia University, Udaipur |
| Hemlata Tatwal | 2021 | CSIR-NET | - |
| Nitu Choudhary | 2021 | | Tirupati College of Technical Education, Jaipur (Lecturer) |
| Bhavya | 2021 | | Parishkar International College, Jaipur (As Online Educator) |
| Aanchal Madan | 2021 | | PGT Cambridge (JPG School) |
| Aditi Choudhary | 2022 | Interview for Project Associate | CSIR Institute of Genomics and Integrative Biology, New Delhi |